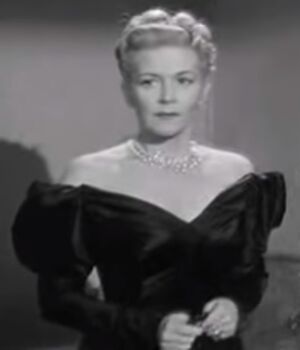 Mrs. Allen
(Christine McIntyre; 1911-1984) is a villainess from
Vagabond Loafers
, a Three Stooges short released on October 6, 1949.
Mrs. Allen and her husband were among a number of guests at the lavish Norfleet home, where the Stooges (working as plumbers) were sent to fix a leaky faucet. As quickly revealed, the Allens were art thieves, and they had their sights set on a classic Van Brocklin painting, which Mrs. Norfleet paid $50,000 for. After biding their time, the villainous couple finally began swiping the painting, doing so after the remaining guests were distracted by the Stooges' inept plumbing job. Mr. Allen cut the painting out of the frame, while Mrs. Allen kept watch. The couple later went to the hallway, where Mr. Allen hid the painting in a pipe. He was caught by Shemp, who conked the thief (along with Moe, inadvertently) with the pipe, leading to a chase.
Meanwhile, the evil Mrs. Allen attempted to label the Stooges as the thieves, referring to them as the only strangers in the home and using that and the Norfleets' elitism to her advantage. The villainess later held Shemp at gunpoint--after her husband's efforts led him to fall into a hole that Shemp accidentally created--and ordered him to drop the pipe. Shemp does, and it strikes Mr. Allen, while also revealing that the painting was inside. After Mr. Allen is spooked by a flour covered Larry and later subdued, Shemp arrived with Mrs. Allen, resulting in the couple being taken into custody.
Vagabond Loafers was remade in 1956 as Scheming Schemers; however, Christine's appearance was solely in stock footage due to her retirement from Stooges appearances a year prior.
Christine McIntyre also played Stooges villainesses Lorna Doone and Delores in The Hot Scots and Who Done It?, respectively.
Community content is available under
CC-BY-SA
unless otherwise noted.