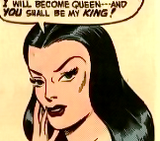 Morgan le Fay is the antagonist of the 1950 comic in the series Operation: Peril (issue 3 story "The Time Travellers").
Morgan is a beautiful but wicked princess who conspires with Mordred and the wizard Merlin to kill her brother King Arthur in order to claim the throne for herself. However, her plot is revealed by a time-traveller Tom Redfield, who then rids the kingdom of her evil forever.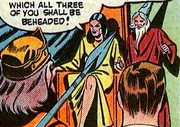 When Dr. Tom Redfield and his fiancee go back in time to retrieve the sword Excalibur from the 6th century, he is met by King Arthur's power-hungry sister Morgan. She attempts and fails to seduce him into betraying and slaying Arthur and then ruling the kingdom together, but he refuses her.
After fleeing from Arthur's court, the witch and her co-conspirators Merlin and Mordred have Arthur and Tom and his fiancee all captured. She orders their beheading, but Tom escapes.
The hero proceeds to defeat the villains using his modern technology. in the assault on Morgan's castle, first killing Mordred and then burning Morgan along with Merlin. The king then presents Excalibur to Tom as a reward for his great deeds.
Community content is available under
CC-BY-SA
unless otherwise noted.