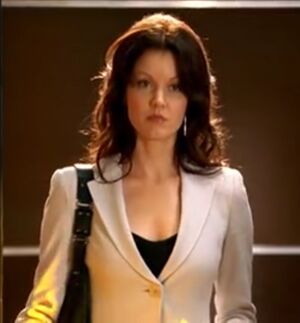 Monica West
(Bellamy Young) is a recurring villainess from Season Four of 
CSI: Miami
. She is an Assistant State Attorney who was first introduced in the episode, "Urban Hellraisers", as the fiancée of Treasury Agent Peter Elliott, who asked Calleigh Duquesne out to dinner to celebrate his engagement.
Monica's true villainous persona was revealed in the fourth season finale, "One of Our Own", when she was revealed as the mastermind behind the FBI probing the Miami crime lab. She planted Natalia Boa Vista as a mole within the lab, but as Natalia herself stated to Calleigh (after her role was revealed to Eric Delko), she only brought back positive results. Upset at Natalia's inability to take down the lab, Monica resorted to more dastardly measures.
Monica was with Peter while he was counting confiscated money from a raid on the notorious Mala Noche gang. Once her fiancée's back was turned, however, the evil Monica stole some of the money and placed it inside her purse, planning to discredit the crime lab and make them appear either irresponsible or corrupt. She then phoned the FBI regarding the missing money, which led to the investigation.
After Calleigh figured out Monica's villainous role, she went to Peter and had him record Monica's confession. Monica arrogantly admits to the theft, claiming she was providing a service and that the lab should be investigated. At that moment, Calleigh arrived and revealed that she was caught on tape revealing everything, showing Monica said tape. After expressing shock over Peter setting her up, Monica was later arrested and eventually fired and disbarred.
Bellamy Young also appeared on NCIS as corrupt ATF agent Melinda Stone, and played main villainess Tina Moore in Mystery Woman: Vision of a Murder.
Bellamy Young also played another evil attorney, Margaret Pollack, on Franklin & Bash, and also appeared on Two and a Half Men as the villainous Diane, on Supernatural as possessed villainess Sarah, on Castle as the villainous Candace Ford, and on the Law & Order franchise as villainesses Stephanie Harker (L&O) and Monica Jarrow (LA).
Bellamy Young appeared in the 2018 film, A Wrinkle in Time, as the evil Camazotz Woman, and appeared on Whiskey Cavalier as the villainous Karen Pappas.
Community content is available under
CC-BY-SA
unless otherwise noted.