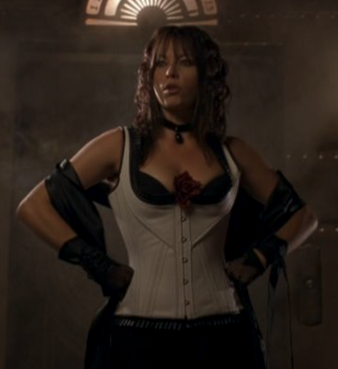 Miss Morticia (Musetta Vander) is a minor villainess in the 2006 straight to video "Monster Night".
In the film, the Ackerman family have moved to Los Angeles, and taken up residence in a spooky old house. It follows the oldest son Isaac, who attends Zombini High School. The Dean is evil and is searching for immortality. In order to accomplish this, he needs to gather the thirteen souls of the zodiac, which is tied to the 29th of February. This also happens to be Isaac's birthday.
One of his teachers is Miss Morticia, who teaches mathmatics. She is very strict, and carries around a riding whip to get her point across. She is earily like a dominatrix.
On Halloween, Isaac is forced to babysit his younger siblings, and his new friends from school arrive and turn his house into a party. Isaac's five year old brother Vincent, who is dressed like Hugh Heffner, goes missing. It is up to Isaac and his friends to try to find them.
After entering a secret passage in the house, they find that the house is haunted. His school teachers are there for some reason, and attempt to help them.
Morticia is on a different level, and she appears in a bat form. Isaac's love interest, Jessica, notices that Morticia has no reflection in her make-up mirror. She is a dominatrix vampire, and she also shows her corrupt decaying look with fangs to the kids. Luckily the kids took chemistry lessons with voodoo priestess Miss Mammajamma. Because of this, they recall the chemical basis of water. The kids throw holy (mineral) water over her. Morticia glows before exploding.
Musetta appeared as Lash in the 1994 TV series "Oblivion".
Musetta Vander appeared as Lady Beryl in the 1996 fantasy film "The Dark Mist", also called "The Lord Protector: The Riddle of the Chosen".
Musetta Vander appeared as the henchwoman Munitia in the 1996 film, "Wild Wild West".
Musetta Vander appeared as Shauna Teague in the 1996 episode "Murder by the Book" for the TV series "Diagnosis Murder".
Musetta Vander appeared as Natalie French in the 1997 episode "Teacher's Pet" from the TV series Buffy The Vampire Slayer.
Musetta Vander appeared as Queen Sindel in the 1997 film, "Mortal Kombat: Annihilation".
Musetta Vander appeared as Ilainus in the 2000 episode "Amphiboles Under Siege" for the TV series "Xena: Warrior Princess".
Musetta Vander appeared as villainess Prima in three 2000 episodes of the TV series "Secret Agent Man".
Musetta Vander appeared as Nutragena, the villainess in the 2002 episode "Hamm Stroker's Suck My Blood".
Community content is available under
CC-BY-SA
unless otherwise noted.