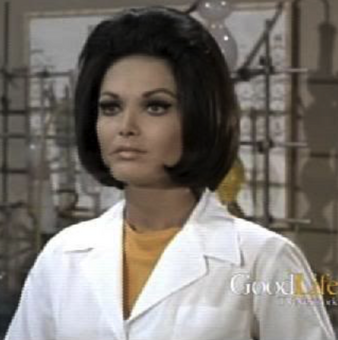 Miss Karum (Lisa Seagram) is a villainess in the 1966 episode "The Garden of Evil Affair" for the TV series "The Girl from U.N.C.L.E.
Miss Karum belongs to the Cult of Camboydses, a Persian assasin group of killers based in the Middle East.  They don Ancient Egyptian ceremonial garb.  They are associated with THRUSH, to which they perform murders for.  The cult, however, wants to break free of its alliance with THRUSH.  
The cult plans to gain control of a formula that can transfer the consiousness of a long-dead person (mummy) into mind of a living descendant.  They find that there is only one living descendant, Greta Wolfe (Sabrina Scharf), a woman who the cult covets.  U.N.C.L.E. and THRUSH are also after the woman.
Miss Karum and the cult members are raised to be killers at birth and ingest poison from a young age.  They are like "human snakes", immune to poison themselves, and they can kill simply by scratching their victims.
Miss Karum is working on the side as an assistant for Dr. Ampona (Than Wyenn), who invented the  serum, so stealing it is easy.  April Dancer (Stephanie Powers) takes the place of Greta Wolf to infiltrate the organization.  Miss Karum and April get in a catfight.
Lisa Seagram appeared as Janine Fleur/Sarah Baker in the 1964 episode "It Takes One to Know One" for the TV series "Bewitched".
Lisa Seagram appeared as a nameless Princess in the 1965 episode "Deadlier Than the Male" for the TV series "Amos Burke: Secret Agent".
Lisa Seagram appeared as accomplice Connie Phillips in the 1966 episode 'An Eerie, Airiy Thing' for the tv series 'Honey West'.
Lisa Seagram appeared as Lila in the 1967 episode "Louie, the Lilac" for the TV series "Batman".
Community content is available under
CC-BY-SA
unless otherwise noted.