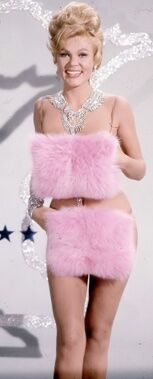 Miss January plays a Slaygirl model who is actually a planted assassin in the 1966 spy-fi film, "Murderers' Row". Miss January is played by the lovely actress, Corinne Cole, who also went by the name Lari Laine.
Miss January poses as a calendar girl for the month of January, who represents the state of Minnesota for Matt Helm (Dean Martin), who is a photographer.
Matt Helm is a part-time secret agent for ICE (Intelligence and Counter-Espionage). He was once a full-time agent but retired and works as a freelance photographer for adult magazines and calendars that feature scantly clad voluptuous women.
Miss January appears wearing a pearl necklace and a pair of pink fur muffs in each hand to cover herself up in private areas. This is a very difficult task indeed as her ample cleavage seemingly attempts to over the soft fur of her top muff. Miss January is well endowed in the upper portion of her body. The audience holds its breath as she leans forward, and hope for a malfunction of her fury hands, but the coverage is impeccable.
A side angle reveals that Miss January is wearing skin-colored bra and panties under her soft pink muffs.
After Helm takes several pictures, he tells Miss January he has what he needs and tells her she can go.
She attempts to flirt with him, but Helm is tired and wants to take a break. As Helm leaves the studio telling her to leave her costume before he leaves. After Helm is gone Miss January pulls out some sort of control device from under her bouffant hairdo and turns it on.
(It was established earlier in the movie that some sort of death ray projected from the sky is being used to kill secret agents around the world.)
Matt, in the meantime, has a meeting with his personal assistant the aptly named Lovey Kravezit (Beverly Adams). With whom he is apparently having a very open no holds barred sexual relationship. Miss Kravezit appeared nude (covered with bubbles) in the first Matt Helm first movie (The Silencers) in his giant swimming pool size bathtub. Matt and Miss Kravezit have a meeting on his couch which finishes off camera after some passionate kissing. Matt then exhausted from his liaison with the always willing Miss Kravezit heads to his own bedroom for some rest.
As established in the first movie, Matt sleeps in a large round bed that has a button that causes the bed to move across the floor to the edge of his swimming pool-sized bathtub. The bed then tilts and he slides in. On most morning Lovey is in the pool to help him scrub up and start the day with a bang. 
His PA having gone home Matt decides to get some shut-eye before his next photographic appointment.  
Helm enters his bedroom fixes himself a Gin tonic and when he pulls off his comforter on his bed to find that Miss January is hiding under the covers, (Miss January was apparently lying in wait while Mr. Helm and Miss Kravezit were carrying on in the next room, let's hope the walls were soundproof.)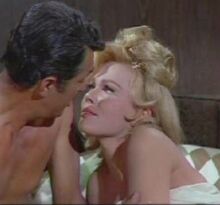 Miss January: January is such a cold month, I decided to warm up under the covers.
Matt tells her that he's too tired at first, but then after she begins kissing him he soon changes his mind.
The two begin making out passionately. He had his quick tryst with Lovey on the couch but now, only a short time later is ready for a quick roll in the hay with the voluptuous Miss January who represented the Twin Cities of Minnesota in his calendar.
Having just begun a thorough examination of Miss January's greatest attractions and about to enter the legendary Port city of Duluth, MN, Matt notices that Miss January has pressed the button on his bed's control panel that causes it to take him for his morning plunge.
Matt quickly figures out that she is there in the capacity to terminate him.
The Super Helio Beam is waiting there to send Matt into the afterlife.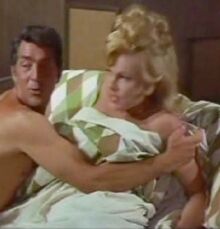 Miss January tries to jump out of bed to avoid the death ray, However, Helm tightens his grip on her and keeps her from escaping. Matt seems to have a confused look on his face. It's not clear if he realizes the true danger of his situation or not. It is clear that Miss January who was openly seducing him a few moments before is now trying to exit his bed posthaste.
The audience watches as the bed lifts off and we presume that the two slide into the water. All we see is that the beam goes off and there is a large explosion and light coming from the bath. Matt Helm is presumed dead, and ICE throws him a funeral.
All the Playgirls besides Miss January are there dressed in black and mourning. However, his death is faked in order to combat Big O and foil their plans.
Trivia:
Corinne Cole was the Playboy Playmate of the Month in May 1958.
Corinne Cole wore a 34D size bra.

Nancy Kovack was supposed to appear as Miss January in Murderer's Row. Miss Kovack appeared in a similar role as the Voluptuous Blonde Femme Fatale named Barbara in Matt Helm's first movie "The Silencers" 1966. Like Miss January, Barbara seduced Matt Helm and as he was kissing her and was about to make love to her she attempted to slay him but was herself killed before she could succeed. Nancy Kovack was unavailable (as she was getting married at the time of shooting) but she recommended the part to one of her friends so the part of Miss January was played by Playboy model Corinne Cole.
Corinne Cole said the filmmakers wanted her to wear a bodystocking while performing the scene but found it too uncomfortable. So she opted to do the scene nude while under the covers with Dean Martin, with whom she became good friends.

Matt Helm's round bed is partly based on the design of bed designed and used by Hugh Hefner the founder and owner of Playboy magazine. Much of Matt's movie persona and swinging lifestyle was based on Hefner. The magazine publisher's bed was equipped with televisions and stereos as well as telephones. He did a lot of work from his bed home office both on the magazine and with the women he dated.
Community content is available under
CC-BY-SA
unless otherwise noted.