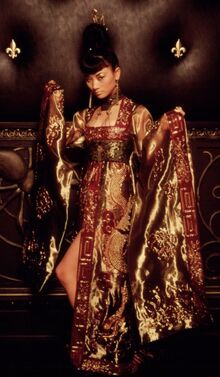 Miss East (Bai Ling) is one of the four statuesque assistants who also serve as bodyguards and henchwomen for Loveless in the 1999 movie "Wild Wild West". She is played by the Chinese born American actress, Bai Ling.
Miss East appears as a seducer for Mr. West played by Will Smith. The other henchmen are Miss Lippenrieder (Sofia Eng) who is the intelligence advisor since she can read lips from many yards away with the use of her telescope and opera glasses; Amazonia (Frederique van der Wal) the muscle and tactical advisor of the group; and Munitia (Musetta Vander) the weapons expert. The four sport incredibly sexy outfits throughout the movie which show off their figures.
Miss East meets Mr. West (Will Smith) at a poker game and whispers to meet her later in the foyer. West later sneaks upstairs to find information. East locates him and strips down to her undergarments to seduce him. As they are about to kiss, he notices in her eyes that she sees something in the background. Indeed she does, the large portraits in the study are not portraits at all, and they are hiding assassins in the picture frames and various other gunmen throughout the room. West moves just in time and Miss East takes the assassins bullet. West continues to kill all 5-6 men and exits the room. We last see Miss East on the floor dead.
Bai Ling appeared as Myca in the 1994 fantasy movie "The Crow".
Bai Ling appeared as evil femme fatale Qui in the film "Taxi 3".
Community content is available under
CC-BY-SA
unless otherwise noted.