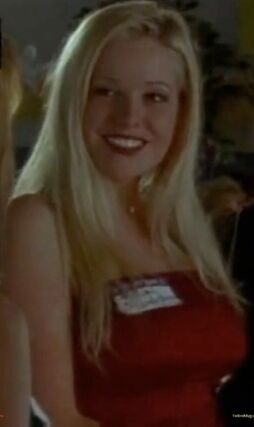 Mimi (Kate Luyben) is an evil alien in the 1999 episode "All About Eddie" for the TV series "First Wave".
Mimi is a slutty classmate of Eddie Nambulous (Rob LaBelle) at his high school reunion dance.
Mimi dragged off Stanley Spencer (Sam Vincent), just before he was about to give Eddie some information. She killed him offscreen, and we don't learn of her villainess tendencies until later in the episode.
Mimi later attempts to flirt with Eddie, but he only has eyes for Marianne (Ellie Harvie), his high school love interest. She makes a catty comment to Marianne while cutting in on her conversation with Herman Garrett (Greg Thirloway). You can see Marianne's blood boil after the blonde bimbo Mimi left. Later we see Mimi slow dancing with Herman.
Mimi follows Eddie into a room, and is about to shoot him. She tells Eddie that Mimi is dead, and that she (the alien) now possesses her DNA. "She makes the comment of "Nice DNA huh?". This is when Eddie comes to the realization that she is Gua, the name for the aliens. Just as she is about to shoot Rob, Marianne shoots her from behind. Mimi falls to the ground, and her body disintegrates. Marianne makes the comment, "I never liked that slut".
There is no telling when Mimi was taken over by the aliens. It was probably prior to the high school reunion.
Kate Luyben appeared as Nurse Nancy in the 1998 episode "Kill Switch" for the TV series "The X-Files".
Kate Luyben appeared as an evil Blonde Madam on the 2000 episode "Pilot" for the TV series "Dark Angel".
Kate Luyben appeared as Mary Mason in the 2012 episode "Crazy Mary" for the TV series "Femme Fatales".
Community content is available under
CC-BY-SA
unless otherwise noted.