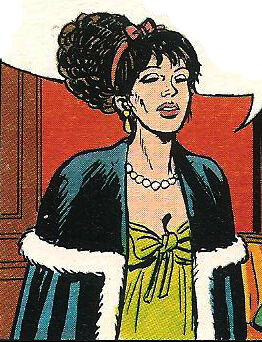 Milady is one of the main villains from the dutch comic book Bakelandt, by drawer Hec Leemans.
The intrigue is set in the early 19th century, and Bakelandt is a secret agent for Napoleon. Thus, he is hunted by the evil British secret agent Milady.
She is often opposed to the other secret agents of her own service, since every one wants to best the others. Her ambitions come against the ones of another British spy named Rutherford. Sometimes she allies with him, or fights him. She leads an inquire about a weapons traffic to Ireland, and she seduces the governor to gain an upper position in the secret service.
After a long hunt after Bakelandt and his friends, she finally meets her end in a deserted swamp in which she and her men drown mounted on their horses.
Milady appears in 5 albums which are.
56.Rendez-vous in de hel
57.De gevangenen van de tower
69. Een wapen voor Eire
76. De vloek van neptunus
77. De jacht op Milady (dies in this episode)
Community content is available under
CC-BY-SA
unless otherwise noted.