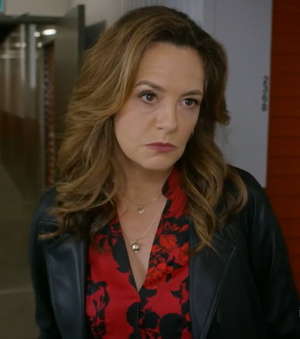 Michelle Sarnowsky
 (Samantha Ferris) is a hidden villainess from the 2018 Hallmark film
Garage Sale Mystery: The Mask Murder
, the 13th film of the 
Garage Sale Mystery 
series (airdate August 12, 2018). She is the owner of a storage facility, along with having been the boss of the film's murder victim, Carmen Dae.
Michelle was interviewed about Carmen's murder by Detective Kevin O'Grady, who noticed that her facility's security cameras had been shut down for a period of time. She claimed that it was caused by a glitch, but O'Grady noted that the cameras were off for an hour. After that, it was revealed that the real reason that said cameras were not working was that had they been operating, they would have caught proof of Michelle being in cahoots with Lawrence Zetto in a scheme that involved transferring stolen goods to the facility.
Jennifer Shannon caught the villainous cohorts during a transaction which involved Lawrence paying Michelle for that day's job. The greedy woman heard a noise from close by and then encountered Jennifer, with the evil Michelle making a veiled threat towards her—warning the protagonist to stay out of their business and using Carmen's demise as part of her threat. Both Michelle and Lawrence ended up being suspected in the murder of the former's employee, with O'Grady returning to the facility and taking Lawrence into custody. Though it was revealed that neither of them killed Carmen, which was proven when the killer's identity was exposed, Lawrence confessed to their operation, resulting in both him and Michelle being arrested and charged with theft offscreen.
Samantha Ferris previously appeared as Suzanne Elliott on Beyond Belief: Fact or Fiction and voiced villainous mechanic Leslie Handleman in the 2004 video game CSI: Dark Motives.
Community content is available under
CC-BY-SA
unless otherwise noted.