Wiki Targeted (Entertainment)
Play Sound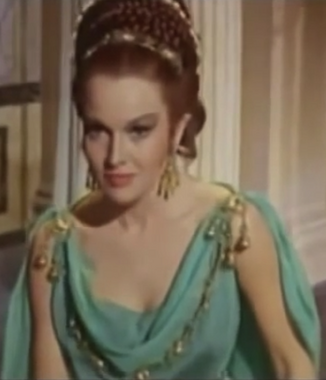 Messalina (Lisa Gastoni) is the villainess in the 1964 Italian Peplum film "Mesaalina vs. the Son of Hercules".  The film's original title was "L'ultimo gladiatore", which translates as "The Ultimate Gladiator".
While fighting in Britain, Roman forces commanded by Caligula (Charles Borromel) capture the noble warrior, Glaucus (Richard Harrison). Seeing in him gladiator material, Caligula takes Glaucus back to Rome along with other hostages including Glaucus's girlfriend, Ena (Marilu Tolo).
A man seeking to restore the Roman Republic then assassinates Caligula after which Claudius (Philippe Hersent) is proclaimed emperor. Messalina, Claudius's beautiful but evil wife, then maneuvers to replace Claudius with her lover, Jean Silio (Jean Claudio). She forces Glaucus to help her in this quest by threatening to harm the enslaved Ena.
In the film, Messalina quickly loses patience with her slaves and in particular Ena, which is the rival for Glaucus' attention.  This can be seen when she is taking a milk-bath, later when she personaly whips her, and then locks her in a suspended animal cage with descending spikes.
At the end of the film, when her government is being overthrown, Messalina poisons herself with wine so that she avoids being run throgh with a spear by her own guards.
Trivia
The character of Messalina was played by Belinda Lee in the 1960 Italian Peplum film "Messalina".
Gallery