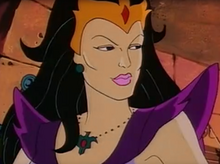 Mesmira the Witch Queen of Stygia (voiced by Kathleen Barr) is a recurring villainess in several episodes of the animated series Conan the Adventurer. She is a rival of Wrath Amon, the series' main antagonist, with the intent to destroy him and take his place. She is also in love with the hero Conan, usually attempting to make her his consort, willingly or not.
Kathleen Barr also voiced Barbie villainesses Laverna and Lydia from Barbie: Fairytopia and Barbie and the Diamond Castle respectively, and appeared on Extreme Dinosaurs as the evil Queen Zarconda as well as Evil-Lyn from the 2002 reboot of He-Man and the Masters of the Universe.
Community content is available under
CC-BY-SA
unless otherwise noted.