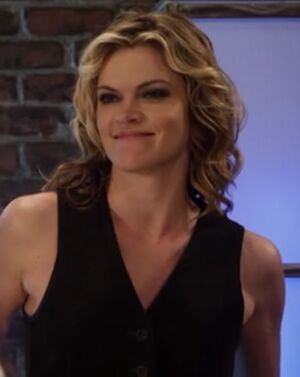 The unnamed
Merch Owner
(Missi Pyle) is the hidden secondary villainess of "I Kissed a Girl," episode 1.06 of
Rizzoli & Isles
(airdate August 16, 2010). She was the owner and bartender of Merch, a noted lesbian bar.
As discovered later on, she was also having an affair with Mel Gaynor-Randle, who was married to Kelly Gaynor-Randle (the episode's murder victim). The bartender colluded with Mel to kill Kelly, beginning with her illicit lover poisoning her diabetic wife's insulin pump with fentanyl. While Mel was performing her routine duties on an LGBT bowling team, her villainous lover followed Kelly outside the bar while she was feeling the effects of the opioid. She then grabbed a 2x4 plank that she used to bludgeon her victim to death. After perpetrating the crime, the villainess penetrated Kelly's vagina with a sex toy to make it appear that the killer was male. Furthermore, during her first encounter with Jane Rizzoli, she handed her a flyer from a homophobic hate group, temporarily making it appear that they were responsible.
In the episode's climax, Jane learned from Maura Isles' analysis that Mel was involved in her wife's murder, but she also had an accomplice. Jane later returned to Merch and made a pass at the bartender/owner, who kissed Jane's neck. However, it was a ploy to get her DNA, and after said DNA was found at the scene of the murder, Jane took her in and placed a wire on her in order to implicate Mel. The unnamed and callous woman met her accomplice at Merch as they were discussing their plans for the inheritance, with Mel disclosing her role in her late wife's death. After that, Jane resurfaced with Detective Barry Frost, and the pair arrested the villainous couple for Kelly's murder.
Regarding other villainous television roles, Missi Pyle later played Callie Connors on Notorious and Trudy Malko on Law & Order: SVU.
Regarding other villainous movie roles, Missi Pyle appeared as Vera Merchants in 2002's Home Alone 4, as Ashley in 2003's Bringing Down the House, Nadia Vole in 2006's Alex Rider: Operation Stormbreaker, and Sally Marnes in 2018's Traffik.
Community content is available under
CC-BY-SA
unless otherwise noted.