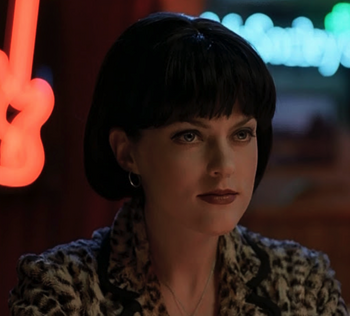 Melody 'Jupiter Music' Maloy (Elaine Hendirx) is an antagonist in the 2001 black comedy thriller "Wish You Were Dead".
Melody is an assassin who kills cheating boyfriends and unfaithful husbands for a living.  Several of her kills are shown to give her characters background.  She shoots one older man in a hotel room, and disposes the body by rolling him down a small enbankment into a pond.
Melody is later hired by Sally Rider (Mary Steenburgen) to kill Mac "Macbeth" Wilson (Cary Elwes).  Sally has learned that Mac has a $1 million life insurance policy.  She seduces him and tricks him into believing he his the father of her unborn baby.  She gets him to change his insurance policy to leave the child as his beneficiary.  Sally then hires Melody to dispose of him.
During her attempt at killing Mac at a restaurant, she misses and kills a waiter instead.
Melody finds herself falling in love with Mac and they concoct, along with the sinister Bruce (Christopher Lloyd), a plan to turn the tables on Sally and her doped up daughter Tanya Rider (Tanya Allen).
She along with Bruce fake Mac's death by placing his body in a casket.  Then during the burial, they knock out Sally and Tanya with shouvels.
​​​​​
Community content is available under
CC-BY-SA
unless otherwise noted.