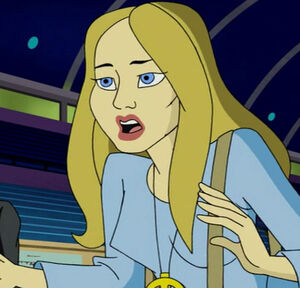 Meadow
(Jennifer Hale) is the main villainess from "Homeward Hound," episode 2.07 of 
What's New, Scooby Doo? 
(airdate October 25, 2003). She is an old friend of Shaggy's, and she is the owner of M'Lady Moonbeam, an entrant at the International Dog Show--which was attacked by a cat creature in the episode's opening scene. The gang stopped at the event, at Scooby's request, and encountered the creature.
Meadow was revealed as the cat creature, as she was unmasked at the end of the episode. She had her henchmen kidnap Mr. B's pups, known as the Secret Six, with Scooby also taken during the heist. Meadow also disguised Moonbeam as a Scooby lookalike to divert the group, but Shaggy clearly figured out that it was not the real Scooby. Meadow's motive:  to make sure that Moonbeam won the dog show, and she clearly saw the Secret Six as a threat. 
Appearance
Edit
Meadow is shown to have a slim caucasian female. With chest length blonde hair, blue eyes a light blue, long sleeved blouse with a gold peace pendant. A pair of jeans with brown strap sandals. Final she carries a burlap handbag with decorative blue flowers.
Personality
Edit
At first we see Meadow as a mellow, polite happy go lucky, like Shaggy. But her true colors shine's after she was unmasked as the Cat Creature. Proving her to be Envious and Vindictive.
Jennifer Hale also lent her voice to villainess Honey Hunsecker in Season One of What's New, Scooby Doo?, and is perhaps best known as recurring villainess Sedusa on The Powerpuff Girls.
Jennifer Hale also lent her voice to villainous teacher Mrs. Thompson on Codename: Kids Next Door and the evil Shannon Lucas in Scooby Doo! Moon Monster Madness.
Community content is available under
CC-BY-SA
unless otherwise noted.