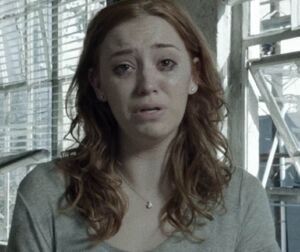 Maybelle Doyle
(Andrea Bowen) is the main villainess from "Snake in the Garden," episode 2.17 of
Scandal
(airdate March 24, 2013). She is one of eight children of lobbyist Hollis Doyle--the only child of Hollis and his fourth ex-wife, Debora Clarkson.
Maybelle was introduced as a kidnap victim, with the abductor demanding $20 million in ransom. After Olivia Pope took on Hollis as a client (much to the dismay of the rest of the group, especially Quinn), Maybelle's past was revealed: she was a drug addict with multiple stints in rehab, and after meeting wealthy boyfriend Justin Turner, the couple committed many criminal acts; including dealing drugs, stealing cars and forging checks. It was because of this that Hollis refused to pay the ransom, because he believed that Maybelle staged everything to get more of his money. Even when Maybelle's severed left ear is sent to OPA, Hollis isn't convinced.
However, after seeing Maybelle without her ear, Hollis gave the order to pay the ransom, but only half was paid to ensure that Maybelle would remain alive. A panicked Maybelle revealed where she was held captive following the payout--an old gas station--and after she was found gagged and covered in blood, she was rescued and hospitalized. Maybelle fingered Justin as the abductor, stating that she couldn't believe he could do something like this to her. In a twist, after inspecting the ear, Huck revealed that Hollis' suspicions were correct: Maybelle staged her own kidnapping.
As it turned out, Maybelle harbored resentment towards her parents for reasons that weren't revealed, and feeling that she deserved to live off their riches, the evil Maybelle staged her own kidnapping and demanded the $20 million ransom--even cutting off her own ear to make sure she was paid. The villainess scapegoated Justin to cover her tracks, but Huck revealed that he was in prison overseas for attempting to smuggle drugs, which cemented Maybelle's reveal. After being caught attempting to head to an airport via taxicab, Maybelle was confronted by both parents and Olivia, who informed Maybelle that the transaction was reversed. When asked by Debora for a reason for her actions, Maybelle simply stated that she needed the money, while also claiming to her mother that it was too late to repair things between them. At that point, Hollis gave his daughter an ultimatum: either take the money and never return, or stay with her family. Maybelle callously took the former, with Hollis stating that he would wire her the money. Maybelle's fate beyond that was never revealed.
Andrea Bowen later played evil kidnapper Tammy Roberts in 2014's Zoe Gone.
Community content is available under
CC-BY-SA
unless otherwise noted.