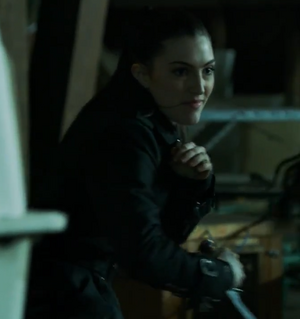 Maya Church
 (Sherill Turner) was a villainess from "No Place is Home," episode 3.10 of 
Quantico
 (airdate July 13, 2018). She was a former MI5 agent turned villainous assassin working for Irish crime boss Conor Devlin.
Maya was originally believed to have been killed five years prior, as she was working a case against the Devlin family in Dublin until she perished in a church explosion that also killed 33 others. In actuality, Maya turned heel and aligned with Devlin, and it was assumed that she staged her death to cover her tracks. After Devlin's son was killed by Ryan Booth in the previous episode, Maya was enlisted to kill members of the FBI group's family as an act of revenge. The villainess killed Owen Hall's daughter, Lydia, and also murdered Mike McQuigg's sister, Jessie, after helping Jessie with her groceries as a way to get inside her apartment.
A fingerprint on one of Jessie's groceries matched Maya's, and it led to Owen and the group taking their loved ones and moving them to a secluded townhouse. However, the evil Maya appeared at the front of the house, leading to Ryan and Alex Parrish searching for her. The latter figured out that Maya's presence was to lure them out, as another assassin, Ben Hardington, was in the house going after Shelby Wyatt and the others. While Ryan was sent back to the house, Alex located Maya and engaged in a shootout with her. The chase ended inside a barn, where Alex fought off Maya's attack with a knife to Maya's right leg. The villainous assassin took the knife with intent on using it on Alex. only for Alex to stab Maya twice before kicking her out through the top of the barn, sending Maya to her death. 
Community content is available under
CC-BY-SA
unless otherwise noted.