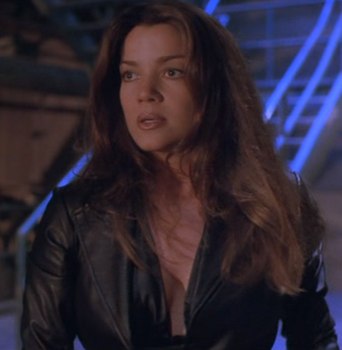 Max
is a villainess in the 1999 movie
Final Voyage
. She is played by
Claudia Christian
.
Max is the only female member part of a gang that hijacks a luxury cruise ship bound for Hawaii. While not the leader of the group, Max is certainly one of its most active and ruthless members. She uses female charm to con her subsequent victims, shoots several crew members and takes the lead in terrorizing the passengers held as hostages. She is also the most active hijacker when it comes to hunting down their main antagonist, a celebrity bodyguard trying to free the ship from its assailants.
At some point in the film, she sees her fortunes suddenly reversed when she gets captured by the hero who makes her walk into a trap. Disarmed and held at gunpoint, Max nevertheless manages to escape captivity. As the villains' control over the ship and its passengers begins to fall apart, she engages into a fight with the heroine on the deck of the ship. Into the brawl, Max comes to realise that she has seriously underestimated the strength of her opponent, a spoiled rich girl named Gloria. As she desperately tries to hold on to her gun, Gloria grabs a life buoy and slams it into Max's stomach. The villainess bends over double and releases a shot from her own gun. Hit in the belly, the evil assassin dies instantly and is left lying on the deck as the rescue operation continues. 
Community content is available under
CC-BY-SA
unless otherwise noted.