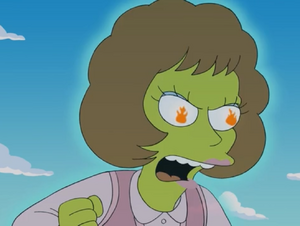 Maude Flanders
 (Maggie Roswell) was a regular character on 
The Simpsons
; the wife of Ned Flanders until her death in Season Eleven's "Alone Again, Natura-Diddly." Maude appeared as a villainess in the series' 29th season finale, "Flanders' Ladder" (airdate May 20, 2018).
In the episode, Bart Simpson was in a coma after being struck by lightning while on top of a ladder (sent by Homer to climb up and take Ned Flanders' router after they internet was cut off by the storm). While comatose, Lisa (seeking revenge over a prank Bart pulled on her) informed Bart that he would see nothing but death in his state, and it led to Bart encountering Maude Flanders and many other deceased characters. 
Maude's first appearance spooked Bart, as her head exploded and Bibles were shooting out of her ghostly body. Her attempts to get attention from Bart were only met with panic, but after seeing the various ghosts and helping one of them move on, he came to the conclusion that his mission was to help the deceased with their unfinished business. After helping the others, Maude was the last ghost remaining.
However, when asked by Bart about her unfinished business, Maude turned heel and revealed that she wanted revenge on Homer, as her death was (accidentally) caused by Homer ducking to pick up a bobby pin at a car racing event, which led to the firing t-shirts to knock Maude over and send her falling to her demise. During her vengeful rant, the evil Maude flashed flaming eyelids as a symbol of her rage, and as for the mission, Homer was lured to an alley (under the pretense of free beer being given away), where Nelson and his gang of bullies fired t-shirts at him. After seeing her mission carried out, Maude thanks Bart for fulfilling her revenge and ascended to heaven, but not before voicing anger over Bart telling her that Ned remarried. As Bart would later learn, Maude's vengeful setup actually killed Homer, as his ghost appeared to Bart, who later saved his father in the sequence.
Maggie Roswell also voiced the Spider-Villain in an episode of Animaniacs.
Community content is available under
CC-BY-SA
unless otherwise noted.