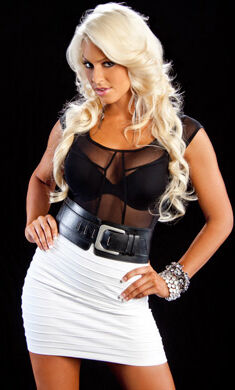 Maryse is a wrestler and manager competing in WWE, where she portrays a villainess.
Maryse is very arrogant and high maintenance, and can be cruel and a bully.
She debuted in 2008 and immediately targeted Cherry, the valet of the tag team of Deuce & Domino. Maryse managed to use her wicked ways to turn Deuce & Domino against Cherry, and align with her instead.
Months afterwards she would target winning the WWE Divas Championship, and eventually did. Over the next couple of years she would feud with the likes of Mickie James, Melina and Gail Kim.
In 2010 Maryse became the evil girlfriend of the rich Ted DiBiase Jr, accompanying him to the ring, and using his wealth to keep her high maintenance lifestyle going.
In 2011 the midget Hornswoggle seemed to be infatuated with her, but Maryse percieved herself to be far too superior for him, and seemed to take pleasure in humiliating him when he tried to express his feelings to her.
After leaving the company in late 2011, Maryse returned on the 4th April 2016 episode of RAW, and helped cause a distraction which helped her husband The Miz win the Intercontinental Championship.
Maryse played villainess Melody in 2015's Santa Little Helper.
Community content is available under
CC-BY-SA
unless otherwise noted.