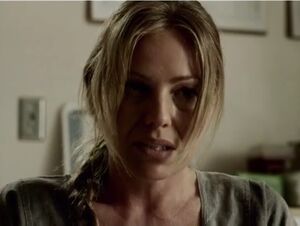 Mary Mason
(Kate Luyben) is the titular main villainess from "Crazy Mary," episode 2.10 of 
Femme Fatales
(airdate July 20, 2012). She is an inmate at a mental institution following the murder of her husband, with Mary insisting that a male killer committed the murder. 
After fellow inmate Gloria bullies Mary and sets her up as the one who started their confrontation, Mary is sent to the office of head psychiatrist Daniel Duryea, and it was there that she told Duryea her story about a man entering her home and killing her husband. After Duryea dismisses her claim, Mary is placed in a straitjacket and sent into a solitary room, but at that moment, an unknown man fitting Mary's description appeared and killed a guard. Mary later encounters Gloria and her female lover as she's running for cover, only for both of them to end up killed as well. Duryea also ended up murdered by the killer, but during this, he pleaded with Mary and told her that he was only trying to help her.
It was during this that Mary was revealed as the person killing Duryea, as she was shown with her weapon in hand and blood on her person. Flashbacks revealed that Mary did kill her husband, stabbing him to death under the belief that he was mistreating her. She also escaped her straitjacket and murdered the guard, and then committed the other murders before finally killing Duryea. The motive was the same:  in Mary's twisted mind, they were all mean to her, and regarding a nurse who was being prepped for electroshock therapy, the psychotic villainess let her go, but also ordered her to cover up for her. The episode's end showed Mary in a nurse's outfit, with her imaginary male killer, who she made up to cover up for her husband's murder.
Kate Luyben appeared as Nurse Nancy in the 1998 episode "Kill Switch" for the TV series "The X-Files".
Kate Luyben appeared as Mimi on the 1999 episode "All About Eddie" in the TV series "First Wave".
Kate Luyben appeared as an evil Blonde Madam on the 2000 episode "Pilot" for the TV series "Dark Angel".
EvilBabes Unfiltered
Edit
Full gallery: Mary Mason (Femme Fatales)
Community content is available under
CC-BY-SA
unless otherwise noted.