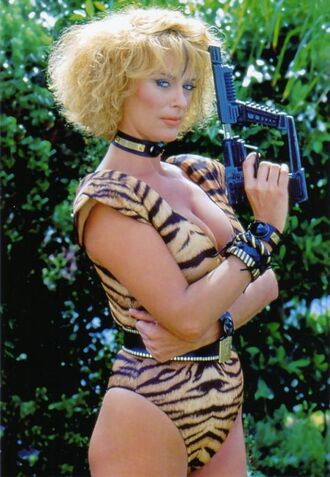 Mary Kruger (Sybil Danning) is a minor antagonist who appeared in one episode in 1984, "Visitor's Choice" for the TV series "V".
Mary Kruger was called The Dark Angel of Dallas, and was the leader of the Dallas mothership.  In addition, she was the apprentice of Diana (Jane Badler), the main antagonist in the series.  
Mary attended a Visitor L.A. Convention to present her latest creation, the Encapsulator.  This device was intended to make the processing of humans more efficient.  It thus would make freezing them for later use obsolete.
The Resistance was successful in blowing up the building where the conference was being held, and thus Mary was killed in the explosion.
Sybil Danning appeared as Brenda in the 1980 Italian detective thriller "Day of the Cobra".
Sybil Danning earlier appeard as the evil sorceress Ariadne , in the 1983 Italian adventure film, "Hercules".
Sybil Danning appeared as Angel in the 1984 action film "Jungle Warriors".
Sybil Danning later appeared as Stirba , the main villainess from the 1985 film, "Howling II: Your Sister is a Werewolf".
Sybil Danning appeared as Warden Sutter in the 1986 film "Refor School Girls".
Sybil Danning apperead as The Alien Queen in the 1988 film, "The Phantom Empire".
Sybil Danning later appeared as evil succubus Pamela Dare in the 1989 episode of "

Superboy", entitled "Succubus".
Community content is available under
CC-BY-SA
unless otherwise noted.