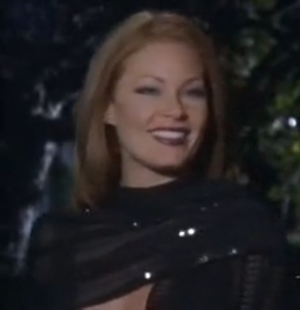 Marta Vradma (Ona Grauer) is the villainess from "Night Walker," the fourth segment from episode 4.10 of Beyond Belief: Fact or Fiction (airdate August 15, 2002).
Marta approached con artist Wade Harris at his home and confronted him over stealing funds from her husband, Baron Vradma. Instead of turning him in, Marta offers to help Wade, claiming that her husband is abusive to her and she wanted payback. The pair successfully robbed Baron Vradma of every cent from all of his accounts, and after the deed was done, Marta passionately made out with Wade; showering his neck with kisses.
Later on, however, Marta turned heel and robbed Wade of all of the money he stole. Wade finally woke up to see that Marta had tricked him, with the villainess stating that she has now taken full control of their business. After she disappears, it is also revealed that Marta is a vampiress, as Wade realizes that she bit his neck. The segment ends with Wade institutionalized and turned into a vampire.
This story was revealed to be a work of fiction in the end of the episode.
Ona Grauer would go on to portray Sandra in the 2015 film I Didn't Kill My Sister.
Community content is available under
CC-BY-SA
unless otherwise noted.