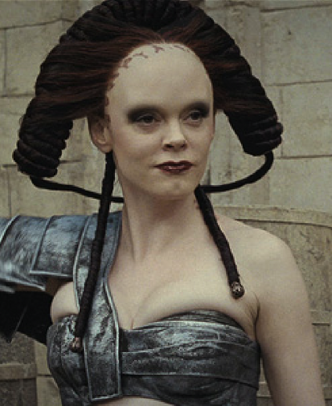 Marique (Rose McGowan) was a minor villainess in the 2011 fantasy remake "Conan the Barbarian".
Marique was the daughter of Khalar Zym, the enemy of Conan.  She was a very evil and powerful witch.
At the young age of seventeen, Marique's mother was arrested and persecuted for practicing dark magic.  Since then, both Marique and her father have been determined to resurrect the woman, and to restore their unity as a family.
In one point, she invokes soldiers made of sand to fight, and poisons Conan with a poison-laced bommerang sword.
After countless battles between Conan and Marique, the young witch finally met her end by the defeat of the barbarian.  He cut off her hand and then Tamara kicked her into a pit, where she got impaled by a large spike below.
Rose McGowan also played the role of mean girl Courtney Shayne in the 1999 comedy film Jawbreaker.
Rose McGowan appeared as the hidden villainess Sasha in the 2000 movie, Ready to Rumble.
Rose McGowan is perhaps best known for replacing Katee Sackhoff as Teddy Rowe during the sixth and final season of Nip/Tuck.
Rose McGowan also played Debbie Strand in Devil in the Flesh.
Rose McGowan appeared as the Evil Enchantress and one of the Blue Moon Beasts in separate episodes of Charmed.
Rose McGowan appeared as Cassandra Davina (a role similar to Teddy Rowe) in the 2008 episode "Bombshell" for the TV series, Law & Order: Special VIctims Unit.
Community content is available under
CC-BY-SA
unless otherwise noted.