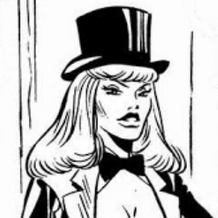 Mandracca
is a recurring villainess and perverted magician in the Italian spy comic series "Playcolt". 
Mandracca is one of the many nemesises of Alan Velon, aka. "Playcolt". She starts out as a simple thieving hypnotist, but quickly devolves into a depraved and sadistic degenerate. Though she was never killed or apprehended by the authorities, she did receive a bit of vigilante comuppeance in every storyline, in the form of being sexually violated by Alan.
Appearances
1. Playcolt 6/1974: Mandracca La Gran Vacca
2. Playcolt 11/1974: A Disneyland Ride La Morte
3. Playcolt 14/1974: Il Compleanno Di Strasex
4. Playcolt 17/1974: L'isola Di Bengodi
5. Playcolt 18/1974: C'e' Casino In Mezzo Al Mar
6. Playcolt 20/1974: La Vendetta Di Mandracca
7. Playcolt 2/1975: Per Amare Un Buco
EvilBabes Unfiltered
Edit
Full gallery: Mandracca (Playcolt)
Community content is available under
CC-BY-SA
unless otherwise noted.