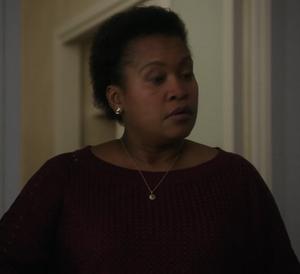 Maggie Fultz
(Twinkle Burke) (nicknamed
Bulldog
) is the hidden main villainess from "You've Come a Long Way, Baby," episode 6.11 of
Elementary
(airdate July 23, 2018). She is an employee at Summit-Stow Distributes, working as the business manager for Kip Powell. She owns two bulldogs, to whom she is very attached and calls her babies.
As revealed later on, Maggie was a mole planted by Washburn head boss Aldo Ventura, as she was sent to keep an eye on an ATF investigation that involved cigarette smuggling. Ventura was interested in keeping selling cigarets to smugglers, so Maggie would pass him information about the investigation, which Ventura used to tip off the smugglers. Agents Bakshi and Evaneer had built up a multi-million dollar slush fund during their work, but they used to the money to fund other ATF investigations, leading to many arrests. They asked Maggie to help them managed it, giving her access to around 30 million dollars. Maggie became a greedy villainess after learning about the slush fund, and planned to take the money for herself. First, she had to eliminate company lawyer Gilbert Pham, who became suspicious about the illegal activities. The villainess handcuffed Pham to his chair in his home, and shot him to death. However after Pham's death was discovered, a murder investigation began.
After killing Pham, the evil Maggie took the agents' slush fund. Bakshi and Evaneer killed each other after one suspected the other of taking the money. Maggie escaped on a plane to Charlotte, but after the escape, Joan Watson had figured out Maggie's true role, and Sherlock Holmes confirmed it after revealing that the ATF's arrest rate dropped 18 months prior to the events, which is when Maggie took her position. After getting her location from Ventura, Maggie was arrested (off-screen) for the murders and the theft.
Community content is available under
CC-BY-SA
unless otherwise noted.