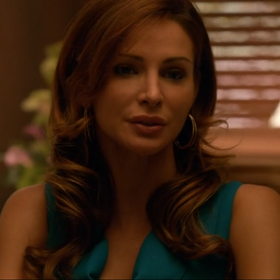 Madison Palmer (Tina Casciani) is the villainess of "And So It Begins", episode 1.11 of Reckless (airdate September 7, 2014). She was a client for cosmetic surgeon Dr. Charles Briggs, the ex-husband of lawyer Jamie Sawyer's assistant Vi Briggs. The episode showed Madison suing Charles for an infection she claimed to have received following an abdominoplasty surgery he gave her; the infection that Madison claimed left her infertile.
At the urging of their son Alex, Charles hired Jamie to represent him during the lawsuit, revealing in their initial meeting that at the time of Madison's surgery, they were romantically involved. Charles and Jamie met with Madison and her lawyer, with Madison claiming that Charles pressured her into having several cosmetic surgeries to please his colleagues. Jamie then confronted Madison with an angry voice message she left Charles before her surgery for dumping her, along with the fact that she missed four post-op appointments she had with Charles that might've allowed her infection to be detected early. Madison responded by vehemently denying the insinuation that she gave herself the infection to get back at Charles, while also claiming that Charles ignored her attempts to reschedule the appointments.
But as revealed by Jamie, Madison had had twelve plastic surgeries before meeting Dr. Briggs, with Jamie making the insinuation that Madison was a "plastic surgery junkie" and that she was angry that Charles made it to where she could no longer get the procedures done. Despite this, however, Madison's lawyer continued to make the argument that Charles had made an error during his surgery with Madison, pointing out how Dr. Lawrence Jacobs (Charles' former mentor) disapproved of the controversial new drainage procedure Charles used for the surgery and revealing a past report of Charles falling asleep while driving to paint him as a negligent surgeon. But as revealed in the case's climax, a revelation was made by Jamie and Vi: Madison's fertility doctor Dr. Peter Langley had told her six years prior that it would be impossible for her to have children, revealing that Madison had lied about the infection causing her infertility in an attempt to sue Charles out of spite. As a result of the revelation, the judge ruled in favor of Charles and Madison was ordered to pay all the costs of her unjust lawsuit.
With Reckless being cancelled after one season, Madison serves as the series' final one-shot villainess.
Tina Casciani previously appeared on CSI: Miami as the evil Whitney Dern, and on CSI as psychotic villainess Jessica Fenton.
Community content is available under
CC-BY-SA
unless otherwise noted.