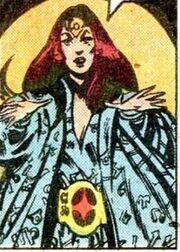 Madame Zodiac is first introduced as a "crime broker" for two Gotham City criminals, Poison Ivy and Catwoman, in a role similar to that of the Calculator. Madame Zodiac promises both criminals that they will come into conflict with Huntress, Batwoman, and Batgirl, in the course of committing their crime, but they would succeed. At the end of the story, Poison Ivy and Catwoman are defeated but Madame Zodiac evades capture after stealing a powerful mystical artifact.
Later, Madame Zodiac was the mastermind behind an assault on the Pentagon, in order to take advantage of the mystical energy generated by a previously foreseen planetary conjunction. She is able to tap into the energies of the syzygy by focusing them within the largest man-made pentagram on Earth, the Pentagon. She uses her new powers to subdue the Military Police detail tasked with defending the facility. She is outwitted by Batgirl, who defeats her by destroying the walls of the Pentagon courtyard thereby cutting off the source of her power, and enabling Batgirl to capture her.
Madame Zodiac teams with Dr. Zodiac to use their magical talents to stop Batman and Superman. In the ensuing battle Madame Zodiac loses her life.
Recently, Madame Zodiac reappeared during the events of Trinity. The Riddler consults with Madame Zodiac in order to uncover the secret behind a pattern of mysterious thefts. While there, an antique gargoyle from Castle Branek, home of Morgaine le Fey, comes to life and attempts to kill him. Madame Zodiac destroys the statue and adds its cost to the fee of her consultation.
Madame Zodiac has stated she "works both sides of the street too often to socialize with either one". It can be assumed this means she takes a neutral stance between good and evil, doing whatever she must to accomplish her own agenda.
Madame Zodiac firs apper in comic The Batman Family 17 (May 1978).
Community content is available under
CC-BY-SA
unless otherwise noted.