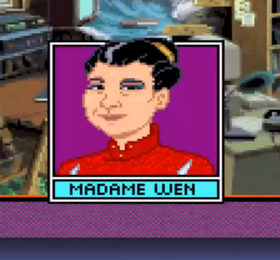 Madame Wen
 is a villainess from the 1993 computer game 
Eagle Eye Mysteries
. She appeared in "Case of the International Idol", which had Jake and Jennifer Eagle and the player investigating the case of a Buddha statue recovered at the local Swanks Hotel, having been stolen from a monastery in Tibet three weeks prior.
Madame Wen questioned by the Eagles after Swanks doorman Chuck revealed that she and her daughter Mei were among the guests of Ms. Polaria's art show on the night the Buddha statue was found in the Andrew Jackson Suite where the show was being held. After consulting Ms. Polaria and Sgt. Nails, it was revealed that an international smuggler was arrested and confessed to having been hired to collect the Buddha statue from the Andrew Jackson Suite and deliver it to a collector in New York.
While Madame Wen claimed in her police interview that she only came to the art show in hopes of selling some of the Roman sculptures in her possession, the investigation eventually revealed the truth: Madame Wen was behind the Buddha statue theft, having stolen the statue while travelling in Tibet. On the night of the art show, the evil Madame Wen snuck the stolen statue into the hotel in one of the bags and suitcases she and Mei (who was unaware of her mother's villainous theft) carried up to the suite, hiding the statue under a sofa in the suite to be picked up later by the smuggler. After being confronted with the evidence collected by the player and the Eagles, Madame Wen made a full confession, with several other stolen art treasures being found in Madame Wen's luggage. Madame Wen was subsequently arrested for her crimes, with authorities expecting her to serve several years in prison.
Madame Wen appeared as the villainess of the Book 2 version of "Case of the International Idol", with Mrs. Boran being revealed as the culprit in the Book 1 version of the case.
Community content is available under
CC-BY-SA
unless otherwise noted.