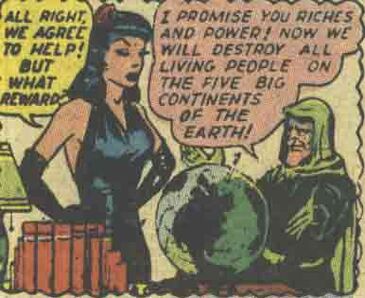 One of the few femme fatales at Timely Comics,
Madame Death
was just another sexy criminal with a gang in
All-Winners Comics
#21 and no threat at all to the heroic All-Winners Squad. But then - in a story written by Otto Binder - she hooked up with the time-traveling Future Man, who wanted to populate the 20th century with the people from his own time.
It means wiping out everyone on Earth, but she knows her priorities and she's down with it as long as she gets rich when he takes over. She becomes his tour guide to the seven continents, helps set traps, recruits pirates and dukes it out with heroine Miss America but, in the final battle, just one punch drops her.
She revives long enough to vanish forever into the distant past with Future Man, when he takes off without knowing his timeship controls are broken.
Community content is available under
CC-BY-SA
unless otherwise noted.