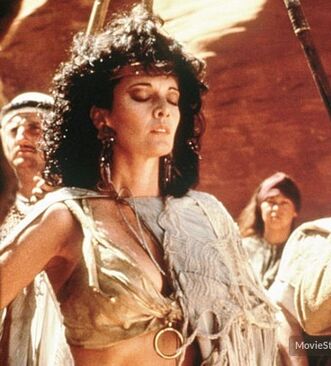 Lyranna (Sarah Douglas) was an antagonist in the 1991 fantasy adventure film "Beastmaster 2: Through the Portal of Time".
Lyranna was a sorcerer and witch who found a portal to modern day Los Angeles.  She joined Arklon, the long lost brother of Dar, to enter the portal and retrieve a modern day weapon.  Their hope was to take over the world.
Lyranna was ambitious and had her own agenda however, and worked for herself.
Lyranna disguises herself in a military officer's uniform in a way to obtain the detonator from a military encampment.  When Arklon learns he can return through the portal without the help of Lyranna, he determines that she is of no use to him. He also discovers that Lyranna intended to leave him stranded in LA. He therefore chokes her and then casts her aside.  Lyranna therefore briefly joins forces with Dar and Jackie Trent (Kari Wuhrer).  However, she only does this to get revenge on Arklon, and then she plans to continue her quest for world domination.
Just as Arklon is about to re-enter the portal, Dar pulls him back and a fight ensues.  The fate of Lyranna is not shown in the film, but it is apparent that Dar leaves her standed in the 1990's since he has the key to the portal.
Sarah Douglas appeared as one of the Kryptonian villains, Ursa  in the 1984 film Superman II.
Sarah Douglas appeared as Taramis , the Evil Queen of Shadizar in the 1984 film, "Conan the Destroyer".
Sarah Douglas appeared as Pamela in the 1984 miniseries "V: The Final Battle".
Sarah Douglas appeared as Shandray , the main antagonist in the 1986 post-apocalyptic sci-fi film "Solarbabies".
Sarah Douglas appeared as Monica Shavetts in the 1992 comedy movie "Meatballs 4".
Sarah Douglas appeared as Jha'Dur, aka Deathwalker, in the 1994 "Babylon 5" episode "Deathwalker".
Community content is available under
CC-BY-SA
unless otherwise noted.