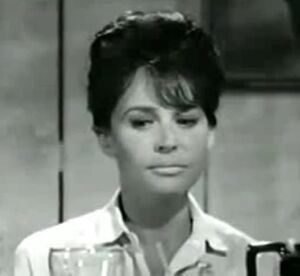 Lucy Sprague (Maggie Pierce; 1931-2010) was the main villainess from "Triumph," episode 3.09 of The Alfred Hitchcock Hour (airdate December 14, 1964).
Lucy Sprague was a nurse and a missionary, married to fellow missionary John Sprague. The couple joined veteran missionaries Mary and Thomas Fitzgibbons at an Indian jungle, and their presence causes paranoia from Mary, who suspects them of attempting to take over their mission. Lucy began cozying up to Thomas, beginning with the pair going on a canoe ride together. Her affections for Thomas caused Mary to become immensely jealous, and it was at that moment that Lucy and Thomas planned to use Mary's jealousy against her.
Mary was actually so furious that she grabbed a scalpel and left to attempt to kill Lucy. Unbeknownst to Mary, the evil Lucy counted on Mary's appearance, as she killed Mary and mutilated her face to make her look unrecognizable. Because of this, John was led to believe that Lucy was the one murdered by Mary, due to Lucy's disappearance and seeing the body mutilated. At episode's end, a vengeful John fired a fatal shot at who he believed was Mary, as she was donning the same veil as Mary. However, John uncovered the veil and realized that he had, in fact, killed Lucy.
Community content is available under
CC-BY-SA
unless otherwise noted.