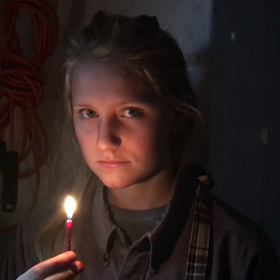 Lucy is the villainess of the 15-second horror film, Birthday (released in 2016). The film opens with Lucy playing a record, which is revealed to be a personalized rendition of the birthday song.
It was as the record continued playing that Lucy was revealed as a murderess, as she began grooming a freshly deceased girl, beginning by wiping her mouth. As Lucy brushed the girl's hair and put nail polish on her nails, blood was shown on Lucy's hands, confirming that she had killed the girl. As the song concluded and the lights in the building went out, the evil Lucy blew out a single birthday candle as she looked as the camera, ending the film.
Community content is available under
CC-BY-SA
unless otherwise noted.