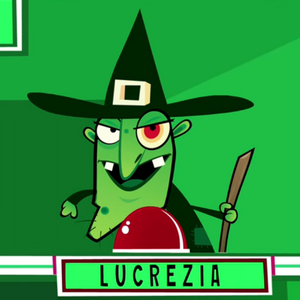 Lucrezia Muncklebones is a villainess from "Halloween", episode 3.14 of Skatoony (airdate October 21, 2012). She was a witch and a contestant on the titular game show's special Halloween episode, with her first appearance having her start a string of evil laughs among her fellow contestants and a vampire in the audience.
After being told about the grand prize the winner would receive, Lucrezia stated she wanted the prize to be "flightier" and "witchy", eventually using her powers to turn the prize into a flying broomstick. After the first round concluded with "The Earl" and several other show members catching the out-of-control broomstick, Lucrezia begrudgingly turned it back into the true grand prize item, while claiming she would lose her "witching license" if she didn't do spells.
The second round ended with Lucrezia and Mike being eliminated for having the two lowest scores, much to Lucrezia's anger. As Lucrezia was sprung out of her seat and sent flying out of the Skatoony building, the scorned witch turned heel by calling upon the spirits--and special effects--to send Skatoony into the vortex, cackling maniacally as her spell took effect. After the Skatoony set went through the vortex along with the hosts and remaining contestants, they found themselves confronted by a family of monsters, who revealed that the Lucrezia was an old friend and former neighbor who promised to have the Skatoony gang entertain them for eternity; revealing that the evil witch had sent them to be held captive by her friends out of spite of losing the game. The group was eventually sent back to their own world after the monster family became disgusted by them, with Lucrezia's fate being left unknown.
Community content is available under
CC-BY-SA
unless otherwise noted.