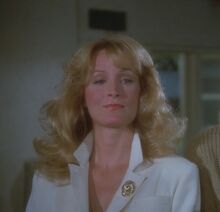 Louisa Clement is a criminal from the episode Death in the Slow Lane (S01 E04) of the series Hart to Hart. She is played by Andra Akers.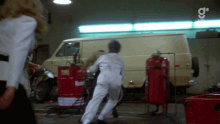 In this Episode, Jonathan Hart buys an old vintage car for his wife Jennifer. Louisa and her partner Mason Parks want to by the car for themself, but the rich Jonathan is able to pay a higher price. Instead they try other ways to get the car. On a vintage car event, Louisa tries to seduce Jonathan but fails. Then Lousa and Mason try to steal the car but also fail. Later in a garage, Jonathan and Jennifer discover that the bad guys are not interested in the car, but something inside of it. Louisa and Mason arrive and threaten J & J with a gun. Jonathan attacks Mason who loses the gun. Louisa wants to take the gun but Jennifer sprays oil or something else liquid in Louisas face. The liquid must hurt Lousia that much she screams and drops the gun. She tries to get it out of her eyes by using her jacket as towel. Jennifer meanwhile gets the gun and Jonathan knocks out Mason. She is presumably arrested later.
Community content is available under
CC-BY-SA
unless otherwise noted.