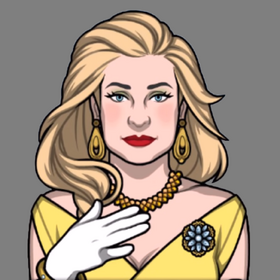 Lorna Westerberg
 was a villainess from "What Happens in Vegas...", case #9 of 
Criminal Case: Travel in Time
, the 6th season of the crime solving game 
Criminal Case
 (release date May 9, 2019). She was a famous Hollywood actress and was introduced as the current owner of 
Ruminations of Time
, Leonardo da Vinci's treatise on time travel.
Lorna was introduced as such in case #8, "Houston, We Have a Problem", as the T.I.M.E team was seeking out Ruminations of Time in order to use the treatise's information to repair their sabotaged time machine. The team travelled to Las Vegas to meet Lorna, only to arrive to find she had been shot dead in front of the Peacock Hotel and Casino where she was staying. While Lorna was initially described by many as a beloved actress, the investigation would post-humously reveal her as a callous and greedy woman.
In addition to being in conflict with thief Nicoletta Marconi and delusional fan Mabel Whitney, Lorna was revealed to have gotten angry with card dealer Frankie Paisley after losing several games, even giving me a written threat on a pack of matches to burn the casino down. Lorna was also found to have shared a duet with lounge singer Clifton Shapiro, but callously refused to star in a movie with him due to refusing to kiss a Black man on camera, rejecting Clifton when he came to her room to try and convince her and tearing up his professional headshot. Lorna was also revealed as the lover of Russian embassador Lev Romanov, who she was later revealed to have bought Ruminations of Time for, with Lev taking the manuscript and storing it in the Soviet embassy in Washington, D.C.
As for Lorna's murder, her killer was revelead to be Frankie, who revealed after his confession Lorna's status as a greedy villainess. After becoming frustrated with her repeated losses, the evil Lorna made a deal with Frankie to split her winnings with him if he helped her cheat. But afterwards, Lorna reneged her deal and planned to keep the money to herself, driving Frankie to kill Lorna as she was swarmed by fans outside the hotel by shooting her with a silenced pistol.
Community content is available under
CC-BY-SA
unless otherwise noted.