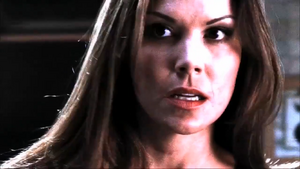 Lori Tinsley
 (Paula Trickey) was the main villainess from "Dog Eat Dog," episode 6.09 of
CSI
 (airdate November 24, 2005). She was the estranged wife of Michael Tinsley.
The couple was going through an immensely bitter divorce, with Lori planning to sell Michael's record collection, prompting Michael to send his girlfriend, Missy, to take some of his favorites from the house. The main centerpiece of their custody battle was their dog, Kahlua, with the couple agreeing to allow Kahlua to choose between them. Knowing this, Lori coated her fingertips with bacon grease; manipulating Kahlua into choosing her over Michael. The scheming villainess did so knowing how much Michael loved Kahlua, and his heartbreak over losing her led to him replacing her with another female golden retriever and giving her the same name.
Michael's plan was to switch that dog with the real Kahlua; however, when he was sneaking into the home late at night, the alarm went off and woke up Lori. A nasty argument followed, with Lori accusing Michael of loving Kahlua more than he loved her. After Michael boldly agreed, the evil Lori took a gun out of her drawer and shot Michael to death following a scuffle. The gunshot caused the fake Kahlua to go ballistic and lunge at Lori's throat, mauling her to death.
Paula Trickey later played a pair of Lifetime film villainesses:  the scheming Liz Hamilton in 2013's The Cheating Pact, and the evil Marty Fowler in 2014's Crimes of the Mind.
Community content is available under
CC-BY-SA
unless otherwise noted.