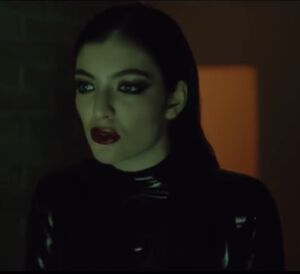 Lorde
is a New Zealand-born singer who appears as the main protagonist and plot-twist villainess in Disclosure's music video,
Magnets
(release date September 29, 2015).
In the video, Lorde is spotted entering a lavish party and catches the eye of a married man, which leads to an adulterous tryst. Another passionate meeting between the pair commenced on the following evening, but in the end of the video, Lorde turned heel and revealed herself as a villainous hitwoman--hired by the man's wife to kill her husband.
As shown during the reveal, Lorde's heel persona included a latex outfit and a slicked back hairstyle, and she later walked slowly towards her victim, who was tied to a chair begging for his life. Shortly afterwards, the evil Lorde pushed her victim into the pool (chair and all), and then lights the entire pool on fire, killing him.
Community content is available under
CC-BY-SA
unless otherwise noted.