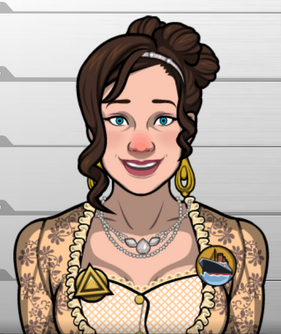 Lizzie Dion is the main villainess of "The Ship of Dreams", case #37 of Criminal Case: Pacific Bay, the 2nd season of the crime solving game Criminal Case (release date January 8, 2015). She was an actress set to star in Gigantic, a blockbuster movie about the sinking of a luxury liner in the early 20th century, and the fiancee of the film's producer, Tyler Snakes.
But as revealed over the course of the case, Lizzie was also having an affair with Fabrizio Gallardo, an artist working for the film, with Fabrizio even making plans to run away with Lizzie to Italy. But when the affair resulted in Lizzie becoming pregnant, Lizzie became desperate to end her relationship with Fabrizio and protect her pampered lifestyle.
After luring Fabrizio to the film set by leaving him a message, the evil Lizzie killed her lover by shooting him with a flare gun. When the police investigation led to the reveal of Lizzie and Fabrizio's secret relationship, Lizzie claimed that she ended things with him a long time prior. Tyler was initially suspected due to the fact that he'd learned about his fiancee's affair and threatened Fabrizio, but the evidence ultimately proved Lizzie's guilt and she was brought in for interrogation.
Lizzie initially tried to claim innocence, but eventually slipped up and proclaimed that she'd never used a flare gun before, despite neither the player or Frank Knight revealing the weapon used to kill Fabrizio. At that, Lizzie confessed to killing Fabrizio, revealing her pregnancy and callously stating that Fabrizio wasn't wealthy enough to provide her with the life she wanted for herself and her child. Lizzie was arrested and put on trial, where judge Edward Dante sentenced her to twenty years in prison.
"Alright alright, I'll confess! I killed Fabrizio, but he didn't leave me any choice! The idiot got me pregnant! (Frank: "It usually takes two people to make a baby, Miss Dion. And if you two were so in love, why not just raise the baby together?") With what money?! Fabrizio was penniless! It took him months to get enough money to buy those plane tickets in the first place! It was easy to pretend we could escape together, but finding out I was pregnant was a wake-up call. This wasn't the life I wanted for myself, or for my baby! I killed him to preserve what matters in my life. And that is my career, and Tyler, my fiancé..." (Lizzie's callous confession to Fabrizio Gallardo's murder)
Community content is available under
CC-BY-SA
unless otherwise noted.