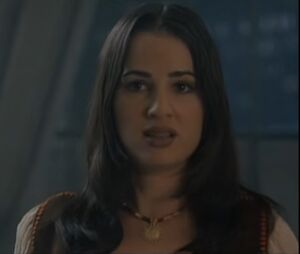 Liza (Paula Marshall) was a villainess from the 1993 TV film, Full Eclipse. She was one of the members of The Pack, a vigilante group of werewolf hybrid cops led by Adam Garou. Liza was one of two female members, the other being Casey Spencer.
Liza was shown participating in The Pack's brutal and gory murders of criminals, and the climax showed Liza in her evil werewolf form, devouring one of her victims before Garou was confronted by Max Dire. Liza was brutally killed by Garou, who morphed into a full-fledged werewolf and mauled the villainess.
Paula Marshall played another villainous female werewolf in Superboy, when she appeared as the evil Christina Riley.
Community content is available under
CC-BY-SA
unless otherwise noted.