Wiki Targeted (Entertainment)
Play Sound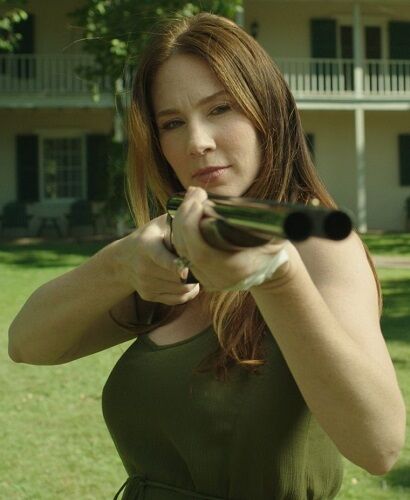 Liz Rhodes (Lynn Collins) is one of the main antagonists of the movie, "Beneath Us" (2019).
At the beginning of the film, Liz Rhodes plays a woman as beautiful as she is greedy, who seeks to employ clandestine workers to save money on her work on her luxurious property. She then meets four undocumented immigrants, Hector, Alejandro, Homero and Memo who really think they have found the right deal. Unfortunately for them, they don't know that behind the smiles and voluptuous curves of this extremely rich boss lies a dangerous psychopath who will do anything to make money. With the help of her husband Ben, this terrifying businesswoman intends to exploit the weaknesses of a system that does not protect immigrant workers. Throughout the film, Liz really takes great pleasure in physically and morally torturing those she only sees in the form of filthy parasites that no one cares about. As racist as she is sadistic, she will make her four slaves go through hell before they finally decide to revolt against this tyrannical boss.
Community content is available under
CC-BY-SA
unless otherwise noted.