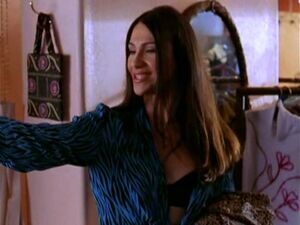 Lisa Signorelli
is a villainess from "Amore...Omerta", a Season 2 episode of the tv series "
18 Wheels of Justice
". She was portrayed by Timilee Romolini.
Lisa is the wife of mobster Sammy Signorelli, nephew to Signorelli Family boss Sal. Her persona is best described as spoiled, overly ambitious(enough for herself & Sammy both), & elitist.
Her past as a drug dealer leads her into engaging in an extramarital affair w/Assistant D.A. Parks after being busted, in order to save her hide. In addition, the affair is used as a trade-off; Lisa gives up info to help build Parks' portfolio, & he stalls out Sammy from major prosecution, setting him up to eventually rise up the ranks of the family. However, while on a shopping spree w/her new friend/undercover agent Cie, she is shown to still be engaging in drug dealing, an act later revealed to be prohibited in the family.
After Parks reveals to Lisa that Cie is an undercover agent(basically also confirming her "husband"/partner Chance as well), Lisa goes to Uncle Sal and makes a deal; she tells him who the rat is, & Sammy gets to carry out his execution, which would add to his case in being promoted to capo. Chance meets Sammy at an abandoned warehouse & immediately knows he's been set up when Lisa arrives. They are holding him at gunpoint while setting up the building to blow up when Sal & his goons show up to handle Chance themselves. Lisa vehemently rejects this and tries forcing the gun into Sammy's hand, causing it to go off. This starts a gunfight, & Lisa tries to flee the scene. She makes it to her car door when Cie arrives w/backup & takes her into custody.
Sammy is later seen discussing his turning of state evidence against his uncle. Sammy then asks for Lisa to be added to his plea deal, as he still loves her despite her affair. The episode ends w/the two embracing.
"You know, this outfit sorta makes me look like some type of hoity-toity uptown slut......I'm getting one in every color."
To Parks, while in bed: "so whose idea was it to use the hot oil?....Oh yeah, mine."
Timolee Romolini also portrayed Joey Ramsey in the tv series Pacific Blue.
Community content is available under
CC-BY-SA
unless otherwise noted.