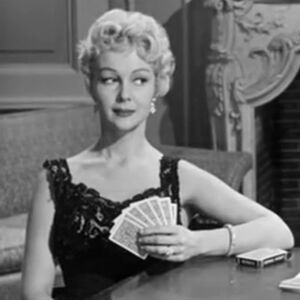 Lisa
(Greta Thyssen; 1927-2018) is a villainess from
Quiz Whizz
, a Three Stooges short released on February 13, 1958. She is the lone female member of a murderous gang led by Montgomery M. Montgomery.
In the short, Joe Besser is swindled out of his sweepstakes winnings by G.Y. Prince and R.O. Broad; two members of Montgomery's gang. Joe, Moe, and Larry confront the crooks, only for the pair to disguise themselves as men who were also swindled; after which they are sent to Montgomery's home, where Montgomery and Lisa attempt to kill the trio. Lisa's attempt comes after she coerces Moe and Larry (who, along with Joe, are dressed as juvenile wards) into a game of Blindman's Bluff, with the villainess knocking out the blindfolded Stooges with a bat.
After realizing that they're targets of a murder plot, the Stooges attempt to escape, only to discover Lisa and Montgomery filling glasses of milk with rat poison. The trio defeat Prince and Broad, and after Larry knocked out Montgomery, Moe shoved a cake onto Lisa's face, leaving the femme fatale defeated and humiliated.
Quiz Whizz marked Greta Thyssen's Stooges debut. She appeared in three Stooges shorts (including their final short, Sappy Bullfighters), but Quiz Whizz was her only appearance as a villainess.
Community content is available under
CC-BY-SA
unless otherwise noted.