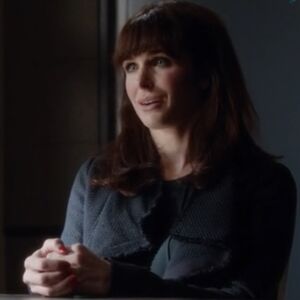 Linda Wallace
 (Danielle Bisutti) is one of the main villainesses from 
Rizzoli & Isles
' fifth season finale, "Family Matters" (airdate March 17, 2015). She is one of the wives of real estate developer Ronald Wallace.
Sometime before the episode's events, Linda found out that Ronald was a bigamist, as she and his other wife, Cynthia, learned the truth about each other. It was at that moment that the wives planned to kill Ronald out of revenge, with the murder being committed in the beginning of the episode. Linda and Ronald were engaged in sexual role-playing, and it was there that Cynthia appeared and bludgeoned Ronald to death, with Linda being blindfolded during the murder. During her interview with Boston PD, the evil Linda attempted to cover her tracks by surreptitiously pinning Cynthia as the sole killer; stating that she wrote angry letters to Ronald, while also acting as a grieving widow to hide her role as a calculating villainess.
However, Jane Rizzoli came to the conclusion that both wives were in it together, and Linda was brought back in and interrogated by Jane's brother, Frankie Rizzoli, Jr. She continued to claim innocence; but she was unaware that Cynthia was in another room being shown video of Linda's betrayal. Jane later approached Linda and revealed that Cynthia gave her a recording of both of them planning the murder, and following this, Linda was under arrest for her role in Ronald's murder. During her arrest, Linda went into a rage and wondered what Ronald ever saw in Cynthia.
Danielle Bisutti also played villainous adulteress/murderess April Harris on Beauty and the Beast, villainous lawyer Gabrielle Wade on CSI: Miami, evil teacher Mrs. Clegg on I Didn't Do It, and later appeared as the evil Ms. Grey in 2018's Nanny Killer.
Community content is available under
CC-BY-SA
unless otherwise noted.