Linda Janson is a villainess in the 1960's UK spy/action TV series Danger Man/Secret Agent).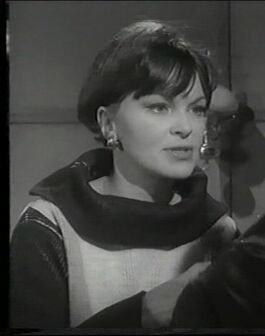 Appears in - Danger Man (aka Secret Agent - US title ) UK 1960 - 61: 1964 - 66: 1968.
Episode - Season 2:23  Not so jolly Roger First UK broadcast on the 7th of April 1966.
Played by -  Lisa Daniely (1930 - 2014)
A "pirate" radio station (see notes) broadcasting from a former military fort is being used by criminals, the Jansons, both as a pop music station and to secretly broadcast government secrets to the submarines of hostile powers. John Drake (Patrick McGoohan) infiltrates the station as a new disc jockey. Along with an ally, female DJ, Susan Wade (Patsy Ann Noble) Drake breaks up the gang and closes down "Radio Jolly Roger" for good.
In the climax, Linda has a gun on Susan, forcing her to broadcast to the submarine. But Linda is momentarily distracted by the noise of Drake taking care of Janson in the corridor, and Susan seizes the opportunity to knock the gun out of Linda's hand; a fight ensues in which Susan beats Linda.
Character - Linda comes over as a pretty ruthless criminal
Weapon - hand gun
Fate - Arrested
Notes -
- The exteriors for this episode were shot at the pirate broadcasting station Radio 390, based in a former WW2 military fort  at Red Sands in the English channel. From 1964 to 1967 there were many "pirate" radio stations in the seas around the UK broadcasting from ships and abandoned WW2 military forts.
- Lisa Daniely  was a regular cast member as the sister to TVs original "Invisible man" in the UK TV series of 1958/9.
- Patsy Ann Noble was a minor English pop singer in the 1960s who also occasionally acted. She later relocated to the US and was known as an actress under the name Trisha Noble.
Community content is available under
CC-BY-SA
unless otherwise noted.