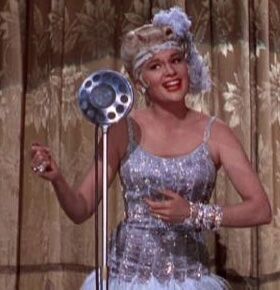 Lina Lamont is the main antagonist in the 1952 musical "Singin' In The Rain". Lina is played by the actress Jean Hagen.
In the movie, Lina plays a famous silent-movie star in the 1920's. On the screen she appears as a glamorous, refined and loving actress. However, in real life she is shallow and vindictive. She also has a high-pitched voice, which the studio heads try to keep secret to preserve her image.
At a party for her and Don Lockwood (Gene Kelley), she sees Don talking to another girl, Kathy Seldes (Debbie Reynolds) and is instantly jealous. When Kathy attempts to hit Don with a pie he ducks and hits Lina instead. Out of anger and jealousy, Lina calls Kathy's employer and has her fired from her job. Later, however, Kathy becomes an actress at the studio and she and Don begin dating.
The invention of the sound pictures force the studio to remake Lina and Don's new picture, "The Dueling Cavalier", as a talkie picture. This means that Lina's voice will be heard by the public for the first time. The studio comes up with an idea to have Kathy dub Lina's voice. Lina is outraged when she finds out, especially since it means Kathy will receive on screen credit for her work.

Lina sues to have Kathy's career canceled and have her do nothing by dub for her voice in the future and receive no credit.
At the premier of the movie, Lina sings to a live audience with Kathy behind a curtain dubbing the song. Don and the studio heads gleefully raise the curtain, revealing Kathy doing the singing. Lina flees in humiliation.
Community content is available under
CC-BY-SA
unless otherwise noted.