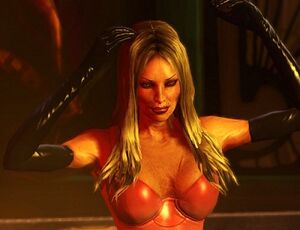 Lilith
 is a vilainess in 
DmC: Devil May Cry
.
She is a powerfull demon who serves as Mundus's mistress and spend her time having sex with Mundus and encouraging him to make the world his "bitch", just like she is. While Mundus does not value her for herself, he does value her as the bearer of his heir, she lately got beaten by the heroines Dante and kidnapped as a batter to released (Kat) heroine friend whom in the hand of Munduss. Later Dante and Vergil arrive at the docks with a whimpering Lilith while Mundus's SWAT officers arrive with Kat. As Lilith and Kat begin limping toward their respective sides, Vergil decides that he can't let this opportunity escape, and fires a round through Lilith's womb, killing the child. As she gasps in horror, he fires off another round through her head, killing her. Enraged, Mundus it seems pretty pissed off, he can't control his rage dispute his true feeling about Lilith, he calls upon the power of the Hell Gate and rampage the whole city.
Community content is available under
CC-BY-SA
unless otherwise noted.