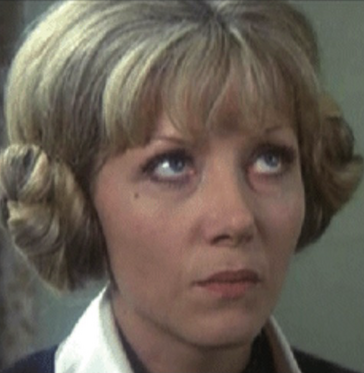 Librarian (Ingrid Pitt) is a minor antagonist in the 1973 British mystery horror film "The Wicker Man".  She actually appeared as the Registrar of Births, Deaths, and Marriages in the film.
We first see the character as she is sitting behind the desk as the Registrar of Births, Deaths, and Marriages for a small village on an island off the coast of Ireland.  She is visited by Sgt. Neil Howie, the central character in the film.  Sgt. Howie is researching a mysterious death of a girl who had gone missing on the island.  She is dressed in a very conservative button up outfit with braided bun hairstyle.  She is reluctant to give out the information that Howie is asking for until he threatens her with jail.
Next we see Sgt. Howie going door to door in this small village in an attempt to find the missing girl.  Upon entering one house and bathroom, we get a glimpse of the "nymphomaniac librarian" as she is lounging in a half-tub of water, clearly naked.  Her blonde hair is loosely pinned up, and one hand covers her breasts while the other hand rests in-between her legs.  As Howie is clearly embarrassed, the Librarian slowly removes her hands to show her naked body, and begins to smile.
Later we see the town holding a May Day ritual of sacrifice.  The Librarian is dressed in a peasant blouse and flowing yellow skirt, and her blonde hair is loose.  She explains to Sgt. Howie that he's "the right kind of adult" for what they needed for their sacrifice.  He is then bound up by the town folk and placed inside a giant wicker man and set on fire as a pagan Celtic sacrifice.
EvilBabes Unfiltered
Edit
Full gallery: Librarian (The Wicker Man)
Community content is available under
CC-BY-SA
unless otherwise noted.