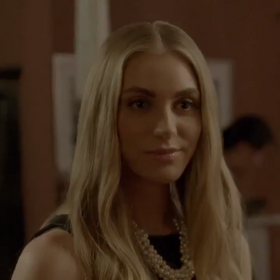 Leanna
 (Jessica Sipos) is a secondary villainess from the 2014 Lifetime film 
Dead on Campus
(airdate November 8, 2014). She is a student at Riverton University and a member of sorority Delta Psi Beta.
The film's events also revealed that Leanna was close to sorority president Alexa Cooper, acting as her right-hand woman in her nefarious schemes that were meant to keep their sorority sisters loyal and obedient to her. During the film's events, Alexa was plotting revenge against career counselor Danielle Williams, who had recommended another student for an internship, and it was all in spite of Alexa's father Harrison pulling strings in the hopes of getting his daughter said internship.
To do so, Alexa and Leanna instructed new Delta Psi Beta pledge Natalie Kellison (the film's main protagonist) to seduce Sumner Williams, a Riverton student and Danielle's brother, with the latter of the two villainesses watching the pair on a date to make sure that their spiteful plan went accordingly. After Natalie brought Sumner back to the sorority house, Leanna was sent by Alexa to give him brownies that had been laced with drugs, resulting in Sumner having hallucinations before Alexa, Leanna, and several other sorority sisters came into the room and began putting makeup on their victim. Afterwards, Sumner tried to drive home, only to end up crashing his car and dying of his injuries.
In the aftermath of Sumner's death, Alexa began working to keep her sorority sisters (particularly Natalie) from telling the truth, having Leanna assist her in keeping tabs on the protagonist. Furthermore, after the callous henchwoman spotted Natalie talking with Danielle—having decided to confess everything to her—the evil Leanna followed Alexa's orders by planting drugs in Natalie's gym bag, resulting in her being arrested and briefly jailed after Alexa reported her to school security. Leanna was later shown acting shocked when Alexa was exposed as a villainess in front of her birthday party attendants (thanks to a video recorded by Natalie's friend Nikki as Natalie herself was confronting Alexa in her closet), but while the latter was revealed to have been arrested for her crimes, the former's fate was left unknown.
Jessica Sipos later appeared in 2018's A Daughter's Revenge as psychotic villainess Elle Spencer.
Community content is available under
CC-BY-SA
unless otherwise noted.