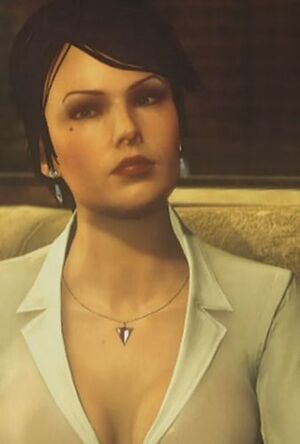 Layla Stockton is the personal assistant and advisor of Dexter Industries CEO Blake Dexter.
Background
Edit
She is designated as a target by Agent 47 in the mission Blackwater Park. There is very little information available as to Layla's background. Her in-game biography states that she is 23 years old and is both a personal assistant and adviser to Blake Dexter. She is seen accompanying him throughout the majority of the game, and is very loyal - staying behind in the penthouse to hold off 47 while Dexter prepares to escape with Victoria. Her wardrobe consists of short skirts and low cut blouses. It is implied that Dexter and Layla have a subtle sexual relationship from his advances and sexual harassment, which she openly protests about. She knows of Wade, and dislikes being in his presence. She is distraught when she witnesses Dexter murdering a cleaning lady at the Terminus Hotel as she thinks that it was unnecessary. In Countdown, Dexter is infuriated by news of her death, but in the end is more concerned about his money, implying that he would rather have the money than Layla.
Community content is available under
CC-BY-SA
unless otherwise noted.